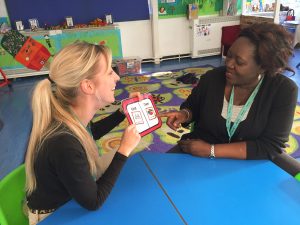 Specialist, practical and coaching support within schools, nurseries and children's services, to upskill staff and build capacity in maximising outcomes for autistic learners.
Outcomes:
Improve outcomes for children with autism and related needs
Enhance the knowledge and understanding of staff or family in areas related to autism (such as effective teaching and support strategies, emotional regulation, behaviour, communication, social skills, independence and transitions)
Increase child engagement, achievement and well-being
Reduce anxiety and challenging behaviour
Implement effective research-based interventions to ensure individual progress
Establish autism friendly environment and spaces
Avoid exclusion
Embed good practice across the setting through ongoing monitoring and sharing of effective strategies and resources
Ensure the personalised needs of children with autism or associated needs are met effectively
Outreach visits include:
Child and class observations followed by action setting sessions with staff using a coaching approach (up to 5 observations in 1 day)
Reports with actions and reviews of progress
Review meetings with Senior Leadership and/ or Special Educational Needs Coordinator (SENCo)
Specialist support and advice on school systems (i.e. behaviour support plans, lunch time, one page profiles, etc.)
Implementation and modelling of research-based and good practice approaches, strategies and resources
Bespoke interventions
Parent support
Training workshops
Liaison with multi-disciplinary professionals
Transition support
Attendance at annual review and outcomes meetings
Report and support for EHCP application
Email and telephone support
Outreach visits are tailored to the needs of the school or service, in order to ensure maximum impact and sustainability. 
Requirements will be identified in an initial meeting or phone call, which is free of charge and without obligation. A series of outreach visits will ensure progress and development of successful autism practice and systems across the school.
This service is suitable for:
Schools (mainstream and special)
Independent schools and academies
Nurseries
Children's centres
Children's services
Libraries
Families
Carers
Children who are not accessing school

"In the time that Stephanie has been working with my school, I have been able to see a sustained improvement in the provision offered. This has been the case in the growing knowledge and skills of the staff she has worked alongside, the physical environment provided for pupils with ASD and the outcomes for those pupils. The excellent provision for pupils with SEND, for which Stephanie's support was a key element, was also verified by my School Improvement Partner. Not only is she extremely knowledgeable about her area of specialism, she is adept at communicating her expertise to a wide range of people. Whether supporting staff working one-to-one with ASD pupils, class teachers, senior leaders or parents, Stephanie is able to communicate effectively and efficiently, offering sound advice backed by her own considerable knowledge, experience and current research practices."
"The outreach and training has enabled my schools to provide accurate support to our ASD pupils as well as started to up skill my staff on key strategies to use to be successful with ASD pupils"
"Each session provides a wealth of ideas and support for the teachers and support staff to immediately employ in their practice. As a result, the children with ASD are supported more effectively. Meetings with the SENCo and senior leaders also increase their knowledge of ASD within a wider school context"
"I feel I know much better how to support a child with ASD. While I understand each child is different, I feel I have discussed and been exposed to a very wide variety of strategies and now have a wide knowledge base to draw on"
"I feel listened to and more confident with my learning"
"I am so happy with… progress in school. I am happy that he is being more independent"