Here is a fun science lesson I recently put together and taught during our term theme on colours. The pupils in my class all have a diagnosis of autism and severe learning difficulties and are working around P levels (UK assessment) P4 – P8. This would also be great for an early years science lesson.
The Coloured Ice and Oil Experiment!
coloured ice cubes (water with food colouring),
vegetable oil,
salt shaker,
water,
1 tray or plate per pupil (clear or white to show the colours from the ice cubes)
pencils
scissors
glue sticks
Extension activity/second week progression lesson additional resources:
salt shaker
water
materials to explore ice with such as paint brushes and sponges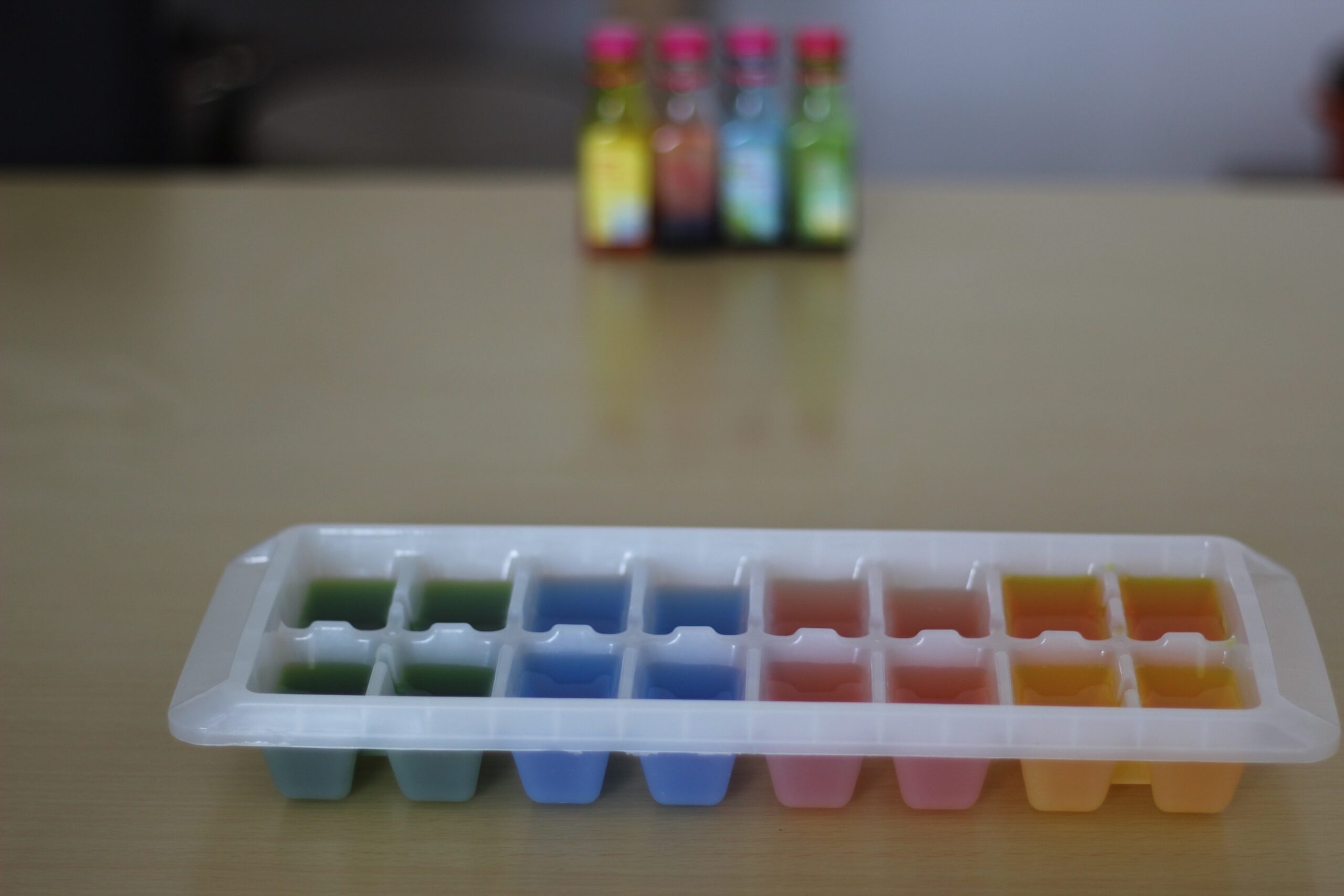 Starter:
PowerPoint visual lesson starter to show the pupils what they will be going to do (download below).
Main:
Teacher demonstrate putting oil on the tray or plate and then taking 2-3 coloured ice cubes out of the ice tray and place onto the oil. Model observing and feeling changes in the ice whilst saying and signing key words such as the colours. Watch as the colours run into the oil. Ask questions if appropriate. Hand out 1 tray or plate per pupil and each pupil to take 2-3 ice cubes and observe and feel the changes in the ice.
Extension activity/ second week lesson:
Teacher to demonstrate pouring salt or water over the ice and using the materials provided such as sponges or paint brushes to explore the melting of the ice cubes. Pupils to use the materials themselves and experiment with the coloured ice, oil, salt and water. Discuss or identify key words/ signs as appropriate for the level of the pupils.
Plenary:
Teacher model completing a worksheet related to the experiment. They are all cutting and sticking activity sheets based on the experiment aimed to cement learning and provide a basis for naming and signing key words as well as to aid discussion if appropriate. The first page is the one to be cut and the second is to be stuck onto.
Group 1 worksheet (P4 – P5): cut and match photo of experiment
Group 2 worksheet (P6): cut and match 4 colours to colours with photo of experiment
Download Group 3 worksheet (P7-P8): match colour symbols to coloured ice cubes or write the names of colours with a photo of the experiment.
Group 1:
Observe and explore coloured ice cubes melting on oil.
Group 2:
Experiment with coloured ice cubes on oil
Name and/or sign 1 colour
Group 3:
Experiment with coloured ice cubes and predict what will happen to the ice cubes.
Name and/or sign 2 or more colours
colour, yellow, green, blue, red, ice, water, oil, melt, cold, wet, pour, touch,
Enjoy! I'd love to hear if you use the lesson ideas and resources or if you would be interested in further lesson plans and resources!