Imagine a typical classroom, what can you see and hear? It may be very noisy, have lots of furniture and equipment crammed into small spaces, perhaps a bit of clutter and bright and colourful displays on every available wall space!
This can often be very overwhelming and distracting for a child with autism. Here are some points to consider when thinking about setting up a classroom, to ensure it is the most effective learning space for all pupils:
An ASD friendly classroom must aim to be distraction free. Distraction can be anything that a child may want to look at, listen too or explore. Knowing the pupils I've taught, this can come in the form of a nail in a cupboard or a gap between a blind and the window so you have to be really creative in order to reduce these distractions!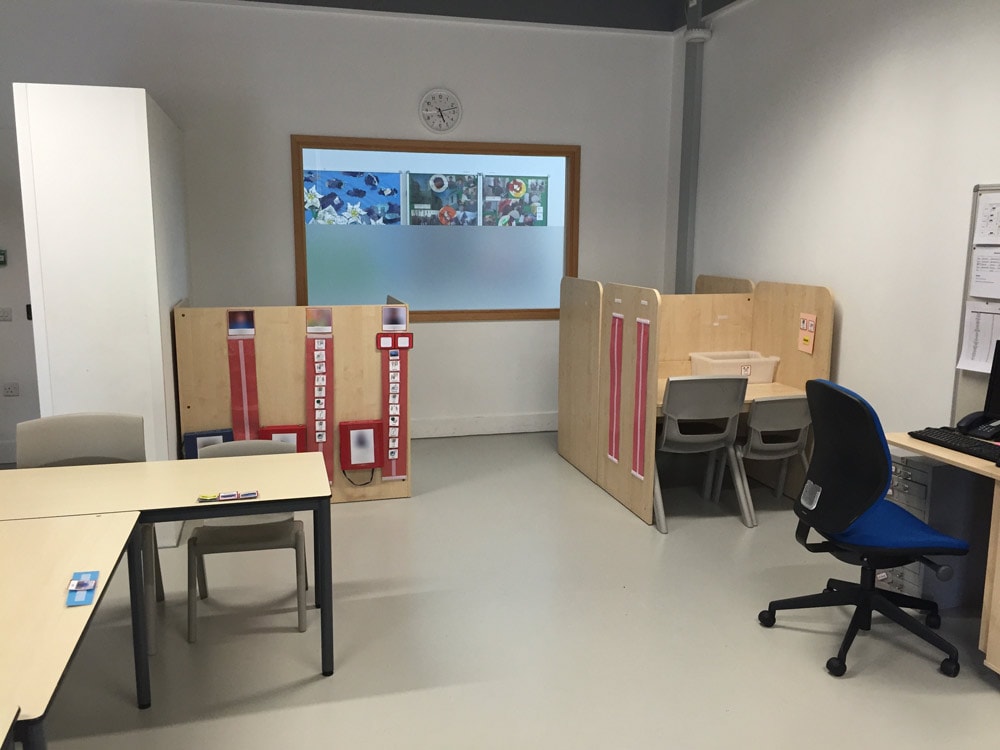 Photo taken at The Garden School
Any inviting equipment would be best placed in a cupboard until its time to be used, otherwise, you cannot be surprised if a child wants to play with the art materials that are already on the table or the bright green umbrella someone has put on top of the cupboard! The children will just want to explore at all times.
For this reason, I try to ensure all equipment and resources are out of sight, either in a cupboard or in covered boxes that are out of reach, and only when needed are taken out and in sight.
Storage space is therefore essential! I am grateful to have a large lockable walk in cupboard next to my classroom and 2 large lockable cupboards inside the classroom, as well as tray storage units in the classroom. It would be unfair to the children for you to ask them to complete a lesson or task if there is something more interesting at the other side of the classroom, which they want to play with!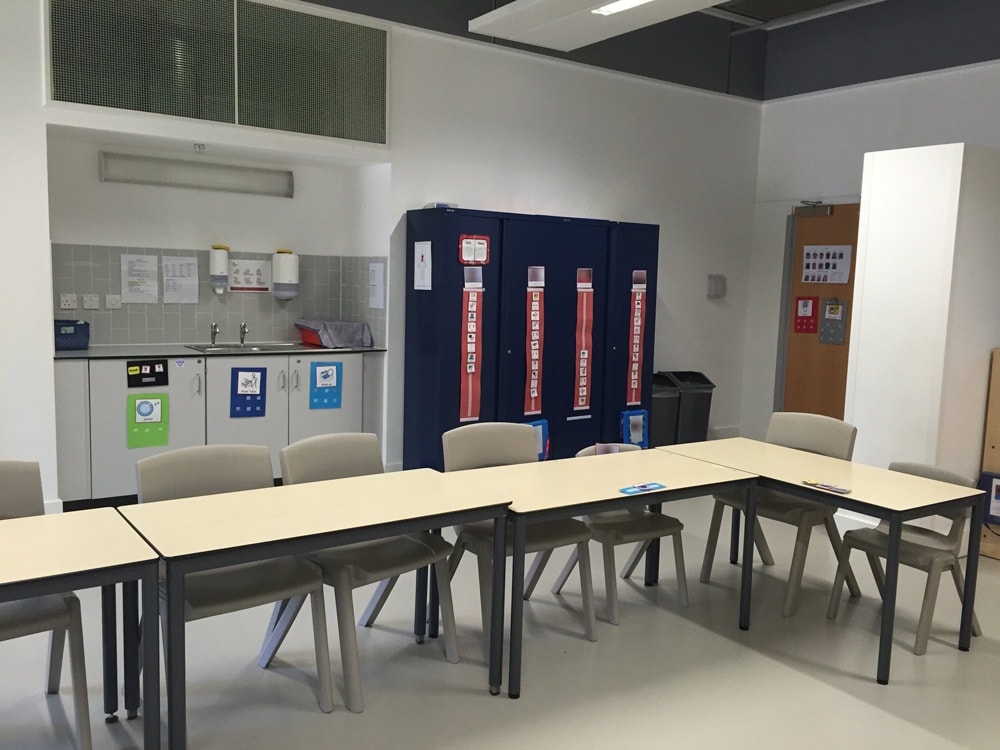 Photo taken at The Garden School
I try to keep displays and notices on walls to a minimum and only display necessary documents in the classroom to reduce distraction on the walls. Windows can be a huge distraction and therefore strategically placing tables and workstations away from windows is a must!
It is essential to think about space in the classroom for the pupils, as well as for equipment and resources. For some pupils, having another child sit directly next to them is not an option and could lead to avoidable challenging behaviour. Think strategically about placing tables, chairs, workstations, computers and cupboards to enable personal space. Dividers can be useful for dividing areas, although ensure they are solid as flimsy dividers can be fun to push over!
Structured teaching is an approach developed by the University of North Carolina, TEACCH program and is an approach to teaching based upon an understanding of the characteristics and learning styles associated with the nature of autism.
Structured teaching aims to teach a child how to learn in a familiar and methodical way. The environment is organised in such a way that the child is familiar with and understands what is expected of them.
Visual cues enable the child to understand what needs to be done and to focus on relevant information.
At the school I teach at, I am grateful to have purpose made workstations with solid backs which create a great distraction free workspace. Here are some examples of the visual cues and prompts associated with structured teaching: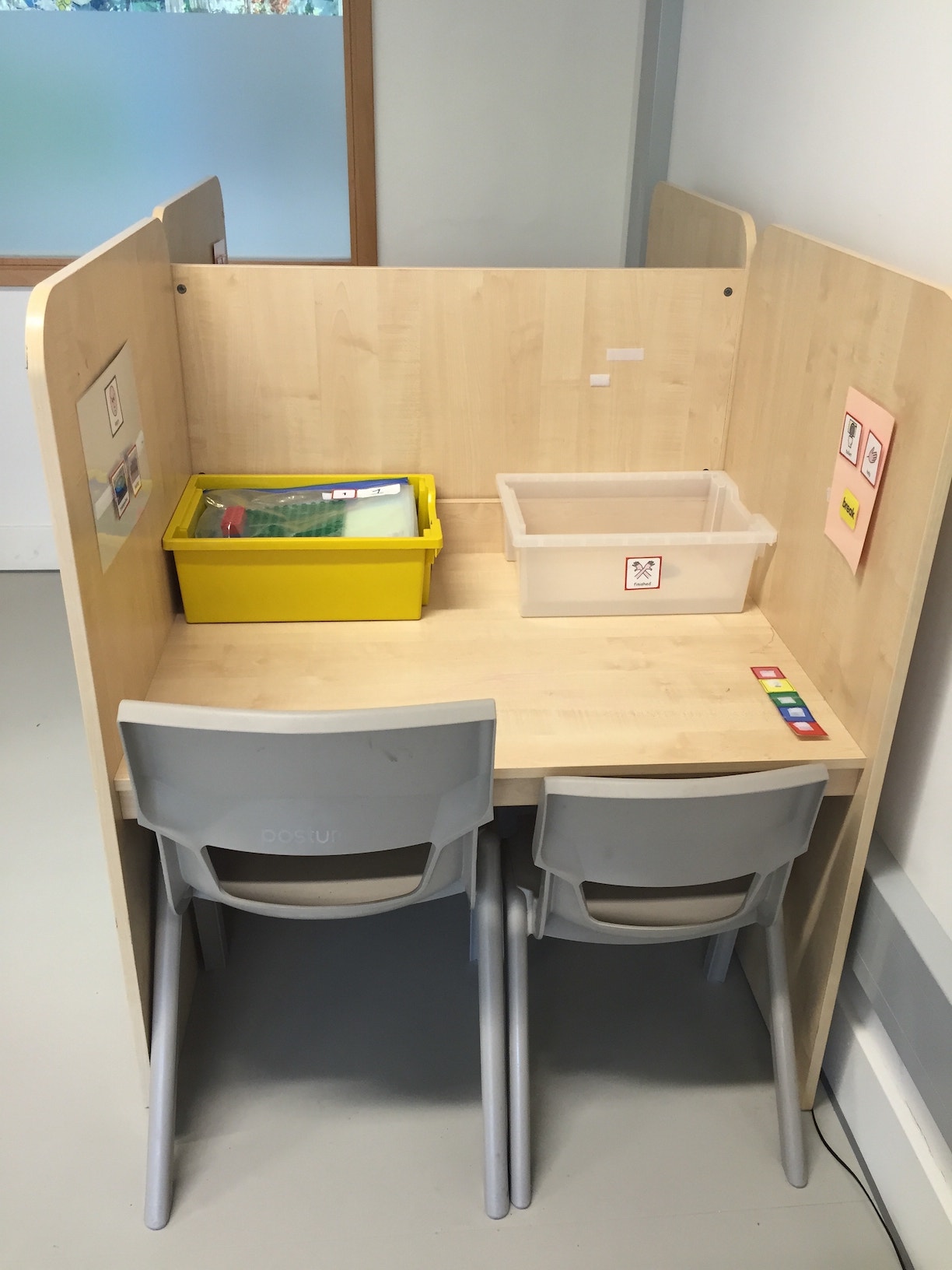 The child puts their own workbox on the left side and the 'finished' box is on the right side. When the child has completed a task, they will put it in the 'finished box'. This reinforces working left to right.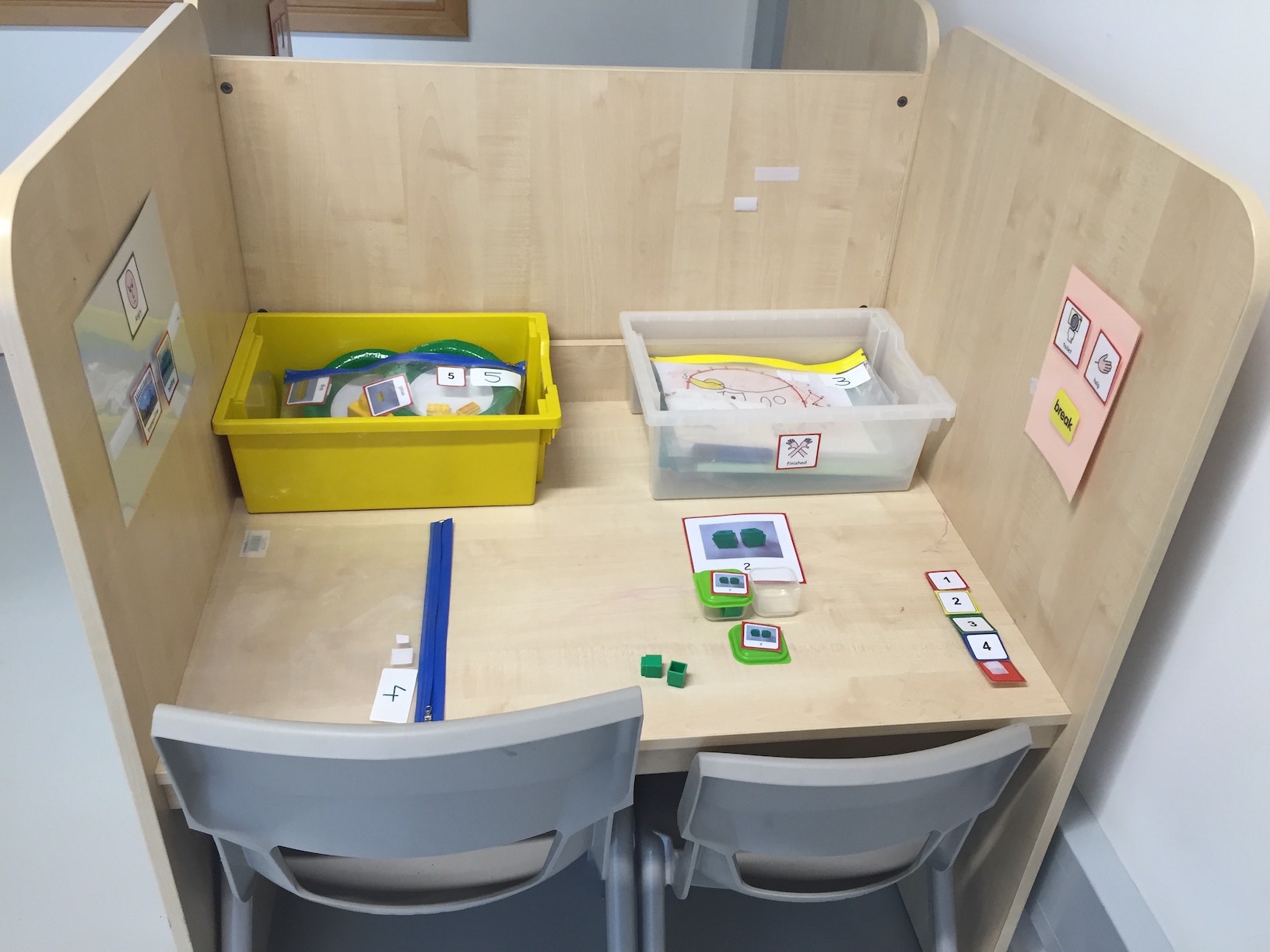 The different coloured numbers are used to show the child which task is 1st, 2nd and so on. When the child takes the activity out of the box (previously prepared and in the correct order!) they can take the number from the wallet and match it to the number board on their right. This gives a clear visual cue of how many activities need to be done and in which order.
Access to Total Communication
Access to communication is vital! Each pupil will communicate in a different way and possibly use many different types of communication (e.g., speech, sign, symbol, picture, photo, object, gesture, vocalisations etc.). We must provide environments that cater for these different communication needs and encourage communication.
Depending on your child's needs, this may involve placing symbols, objects and photos around the classroom, ensuring independent access to PECS book/ AAC device at all times (not in the cupboard!!) and ensuring a sign vocabulary book is accessible for all staff.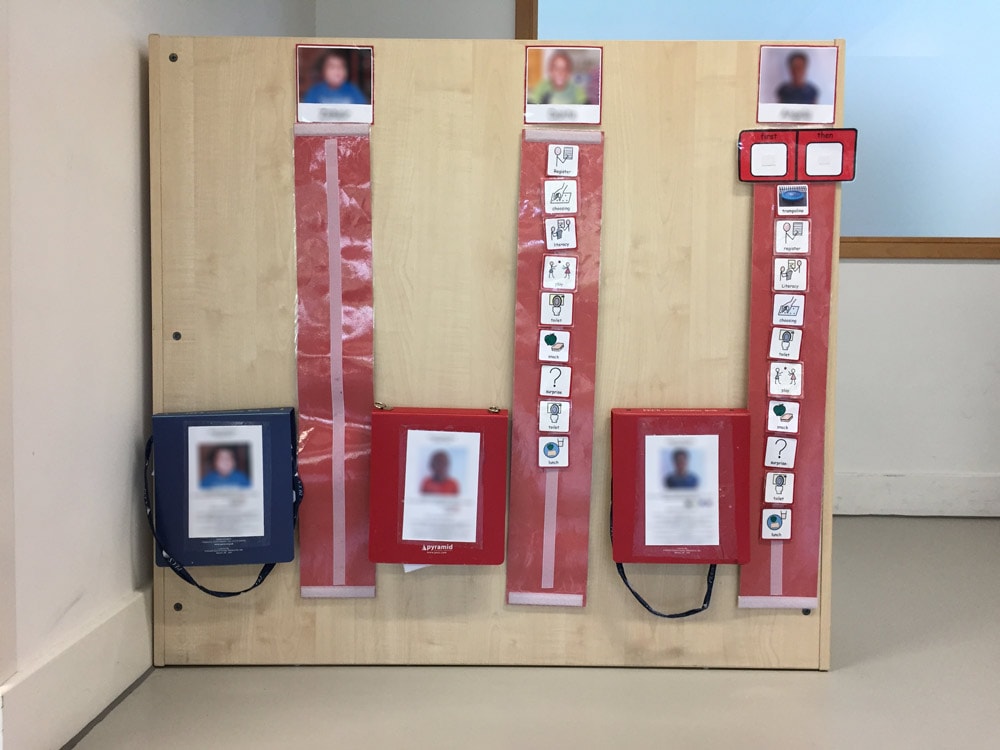 A useful place for keeping PECS books could be next to visual timetables. The pupils therefore have access to the PECS books at all times.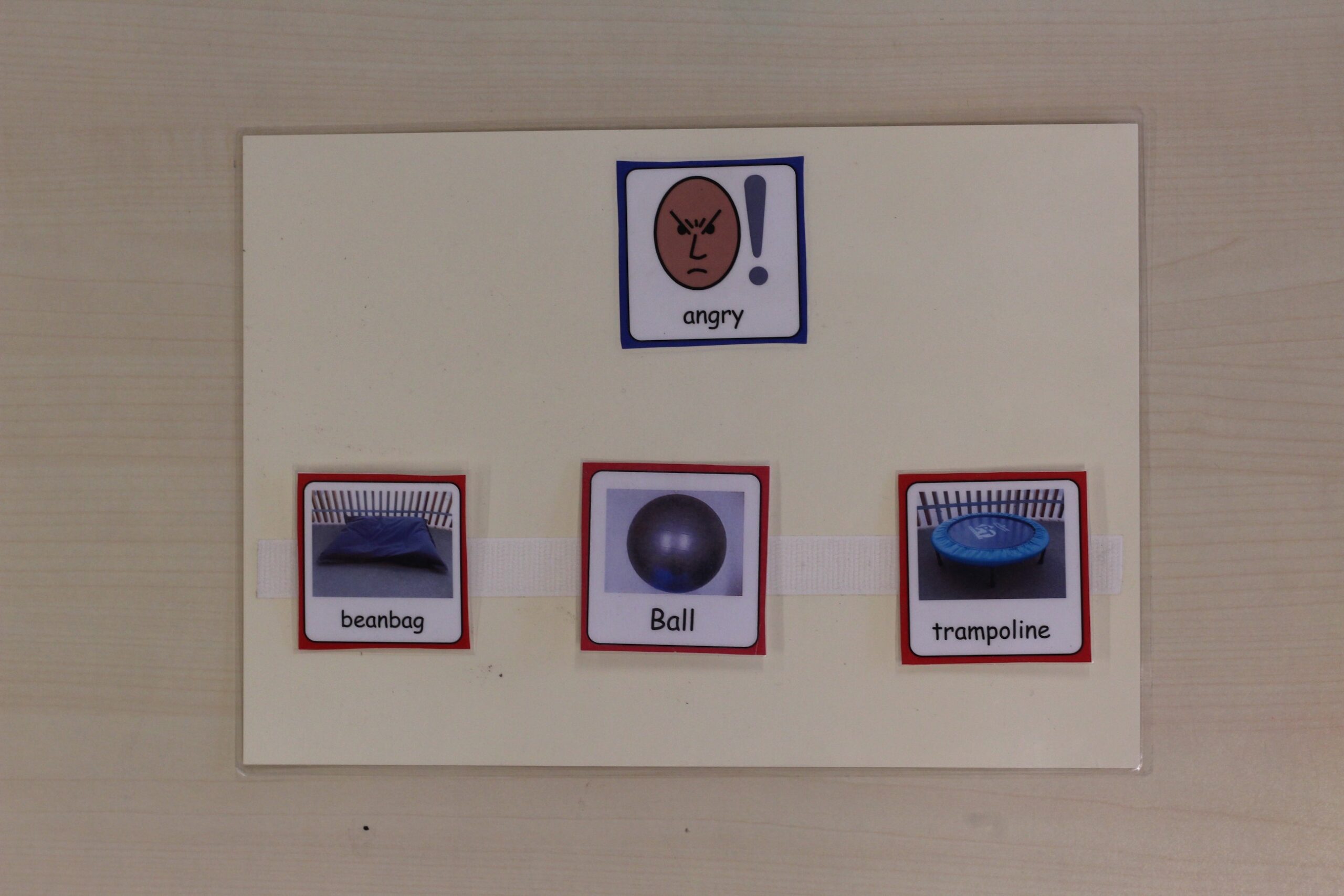 Here is an emotional regulation communication board, accessible at all times for a child to communicate what they want and also to reinforce the emotion of anger.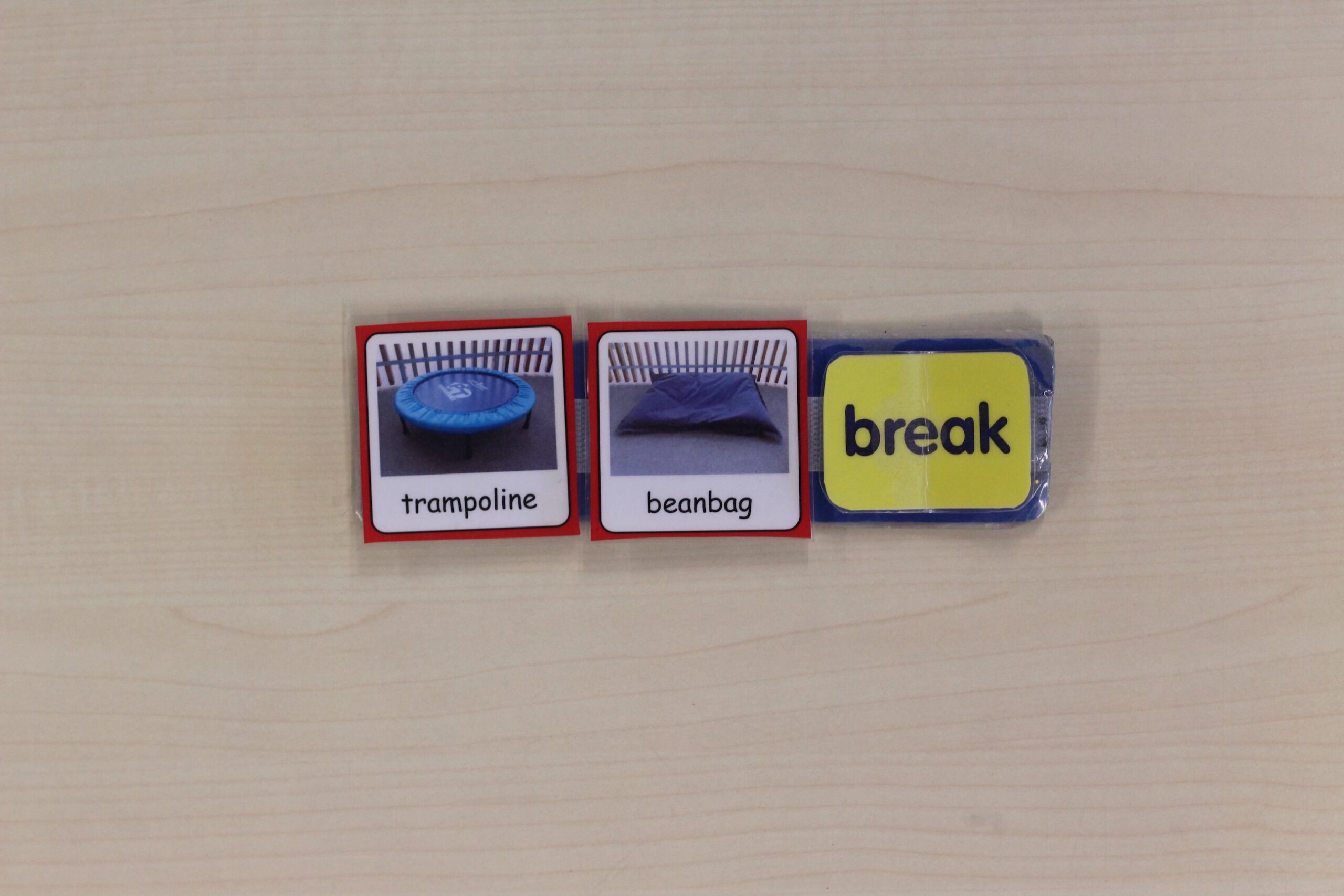 Communication object/ photo/ symbol strips can be placed anywhere that is appropriate and makes sense to the child. The one above is placed on the child's table and is therefore always in hand reach to the child when he is working at the table.
A break out space is an area separate to the classroom where a pupil can go to have a 'break'. This could be another room or outside in the playground, but most importantly, a place that is suitable for the child. In my class, I currently have 1 pupil who will independently ask for a break and others who need a visual prompt to show them they need a break. This is an important part of the child's development, beginning to understand emotions and identifying and regulating how they feel.
For one pupil in my class, the area outside our classroom works well for him because he can bounce on the trampoline or lay on the beanbag. Another pupil finds this area too overwhelming and benefits more from going to the completely neutral 'nurture room' down the corridor. It depends on the child and what works for them, especially when thinking about the strategies for regulating their emotions.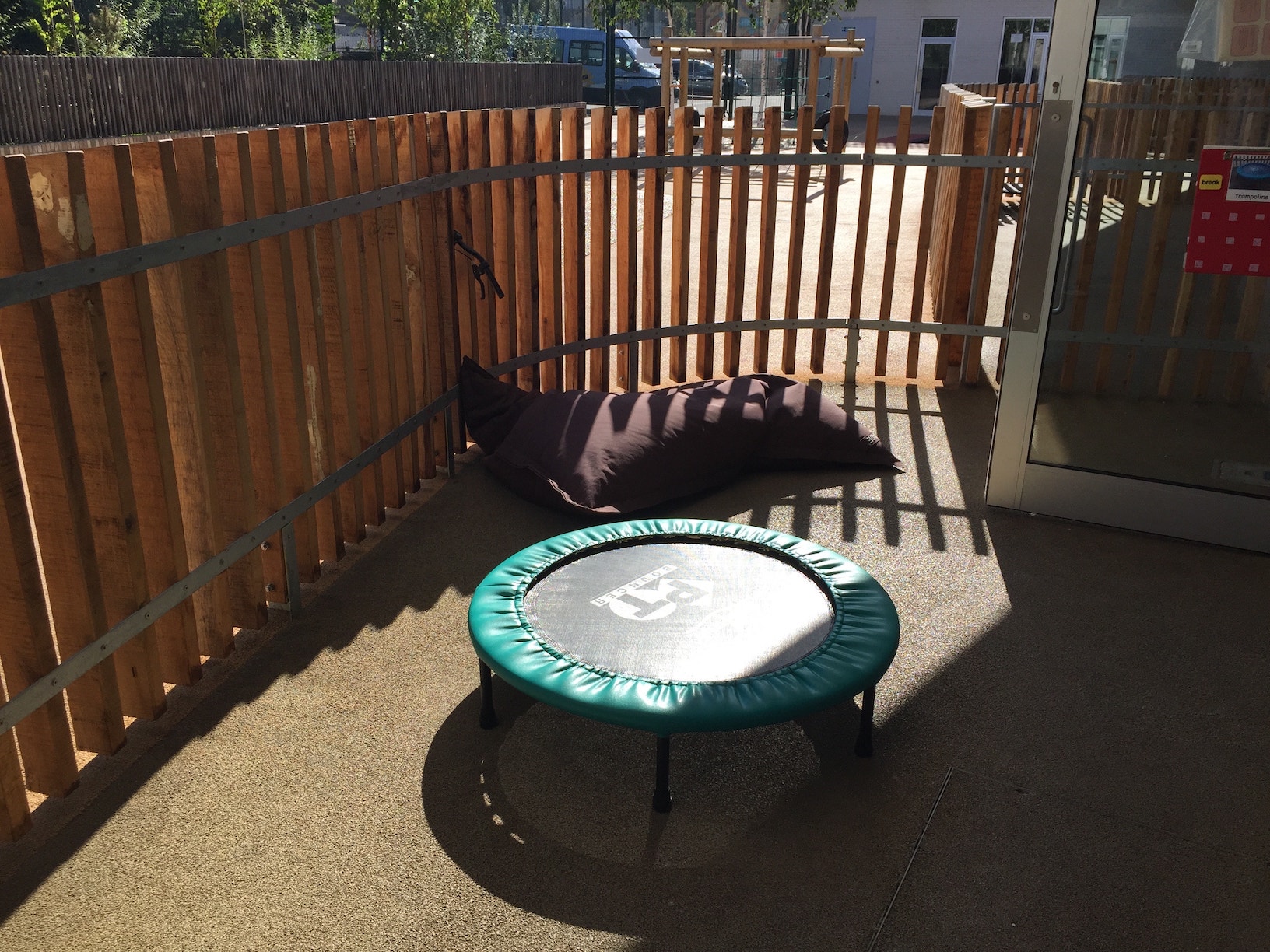 Children with autism can really benefit from having a visual timetable because the visual information can reduce anxiety by showing the child what is going to happen in their day. Visual timetables can also enable pupils to be as independent as possible, by visually showing them where they need to go or what they will be doing next. Visual timetables can vary depending o the needs of the pupils and can be in the form of objects of reference, photos, pictures, symbols, words or handwritten.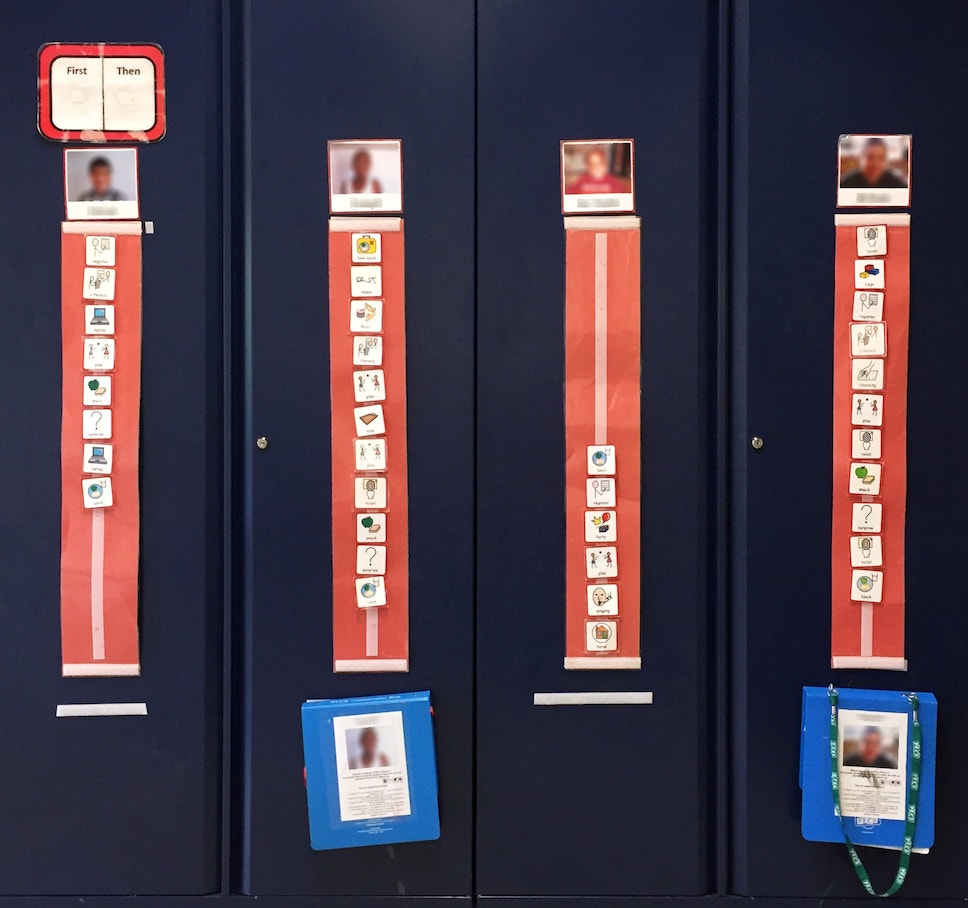 A well organised and clearly labeled environment will be conducive for learning independence skills. This includes equipment trays and work boxes that are well labeled in an appropriate way the pupils can understand (i.e with objects, photos, symbols or words).
Pupils will therefore be able to easily access the equipment they need and this will reduce dependency on others. When my pupils begin their literacy or numeracy session, they will go and get their workbox and take it to their workstation and will begin independently. This also applies with tidying up, if the pupils are able to identify where the objects belong, they will be able to put them back themselves.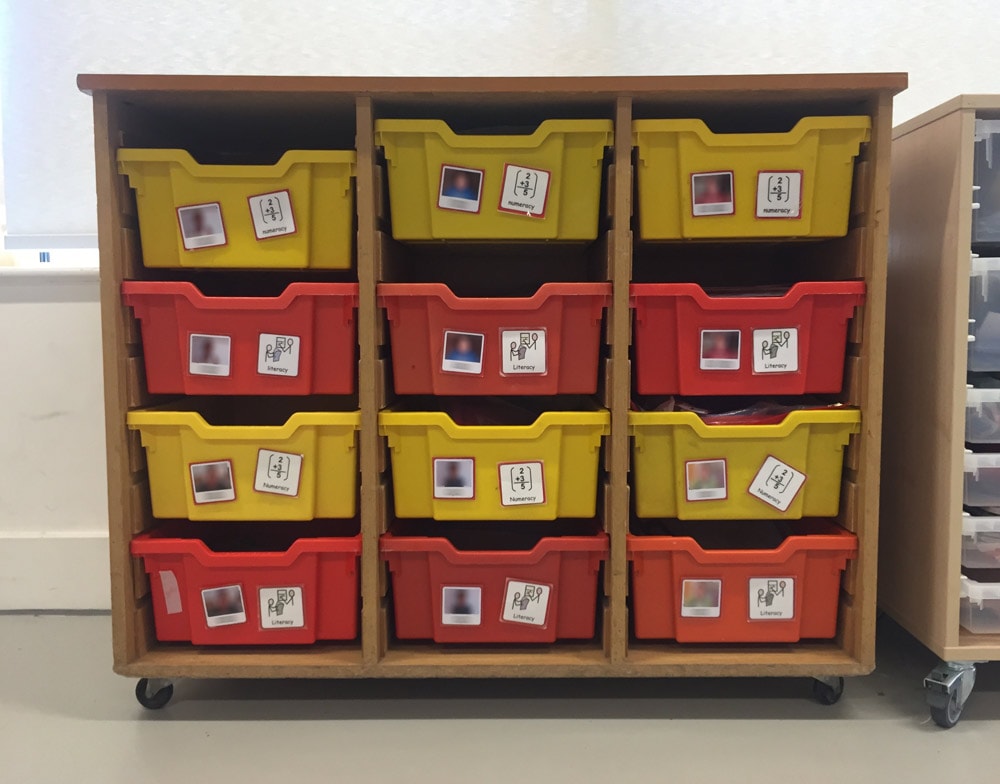 Good luck with setting up your classroom! Please leave any comments or questions.
Click here for more information about how to use visual timetables.